pg BREEZE
COLOR WHT
SIZE 41 - 44

While the design is based on retro running sneakers, the mode feeling is added by finishing the coloring in monotone. A pair of freshness that combines sportiness and mode. Black is matte suede and white is smooth leather.

Since we see many sneakers, go through many sneakers, and own many sneakers, There are things we found. Taking advantage of this knowledge, we are developing the original sneaker PG with a unique perspective of PLAYGROUND paying respect to traditional designs and functions. It is a product that combines rational design, comfortable performance, and casual price

デザインはレトロランニングをベースにしながらも、カラーリングをモノトーンに仕上げることでモード感もプラス。スポーティさとモード感がうまく合わさった新鮮さある一足。ブラックはマットなスエード、ホワイトはスムースレザー。

多くのスニーカーを目にし、多くのスニーカーに足を通し、多くのスニーカーを所有すると分かることがあります。この知見を生かし、伝統的な意匠や機能に敬意を表しつつ、PLAYGROUNDならではの視点を加えたオリジナルスニーカーpg(ピージー)を開発しています。合理的なデザイン、快適なパフォーマンス、カジュアルなプライスが三位一体となったプロダクトです。
-
国内の送料は一律 ¥550 になります。
About overseas shipping.
Duty and tax are to be paid by the customer.
-
*Tax included.
*Additional shipping charges may apply, See detail..

About shipping fees
The shipping fee for this item varies by the shipping method. Customers can choose the shipping method at time of purchase.
佐川急便

Shipping Fees are the same all over country inside Japan ¥550
DHL

Regional setting

Afghanistan

Bangladesh

Bhutan

Brunei

Cambodia

China

Guam

Hong Kong

India

Indonesia

Laos

Macao

Malaysia

Maldives

Marshall Islands

Micronesia, Federated States Of

Mongolia

Myanmar

Nepal

North Korea

Northern Mariana Islands

Pakistan

Palau

Philippines

Singapore

South Korea

Sri Lanka

Taiwan

Thailand

Timor Leste

Vietnam

Australia

Christmas Island

Cocos (Keeling) Islands

Cook Islands

Fiji

French Polynesia

Kiribati

Nauru

New Caledonia

New Zealand

Niue

Norfolk Island

Papua New Guinea

Pitcairn

Samoa

Solomon Islands

Tonga

Tuvalu

Vanuatu

Wallis and Futuna

American Samoa

Anguilla

Antigua and Barbuda

Aruba

Bahamas

Barbados

Belize

Bonaire, Sint Eustatius and Saba

Canada

Cayman Islands

Costa Rica

Cuba

Dominica

Dominican Republic

El Salvador

Grenada

Guadeloupe

Guatemala

Haiti

Honduras

Jamaica

Martinique

Mexico

Montserrat

Netherlands Antilles

Nicaragua

Panama

Puerto Rico

Saint Barthélemy

Saint Kitts and Nevis

Saint Lucia

Saint Martin

Saint Pierre and Miquelon

Saint Vincent and the Grenadines

Sint Maarten

Trinidad and Tobago

Turks and Caicos Islands

U.S. Virgin Islands

United States

Virgin Islands, British

Bahrain

Cyprus

Iran, Islamic Republic Of

Iraq

Israel

Jordan

Kuwait

Lebanon

Oman

Palestinian Territory, Occupied

Qatar

Saudi Arabia

Syria

Turkey

United Arab Emirates

Yemen

Aland Islands

Albania

Andorra

Armenia

Austria

Azerbaijan

Belarus

Belgium

Bosnia and Herzegovina

Bulgaria

Croatia

Czech Republic

Denmark

Estonia

Faroe Islands

Finland

France

Georgia

Germany

Gibraltar

Greece

Greenland

Guernsey

Holy See (Vatican City State)

Hungary

Iceland

Ireland

Isle of Man

Italy

Jersey

Kazakhstan

Kosovo

Kyrgyzstan

Latvia

Liechtenstein

Lithuania

Luxembourg

Malta

Moldova

Monaco

Montenegro

Netherlands

North Macedonia

Norway

Poland

Portugal

Romania

Russia

San Marino

Serbia

Slovakia

Slovenia

Spain

Svalbard and Jan Mayen

Sweden

Switzerland

Tajikistan

Turkmenistan

Ukraine

United Kingdom

Uzbekistan

Argentina

Bolivia

Brazil

Chile

Colombia

Curaçao

Ecuador

Falkland Islands (Malvinas)

French Guiana

Guyana

Paraguay

Peru

Suriname

Uruguay

Venezuela

Algeria

Angola

Ascension Island

Benin

Botswana

Burkina Faso

Burundi

Cameroon

Canary Islands

Cape Verde

Central African Republic

Ceuta and Melilla

Chad

Comoros

Congo

Congo, The Democratic Republic Of The

Côte d'Ivoire

Djibouti

Egypt

Equatorial Guinea

Eritrea

Eswatini

Ethiopia

Gabon

Gambia

Ghana

Guinea

Guinea Bissau

Kenya

Lesotho

Liberia

Libya

Madagascar

Malawi

Mali

Mauritania

Mauritius

Mayotte

Morocco

Mozambique

Namibia

Niger

Nigeria

Reunion

Rwanda

Sao Tome and Principe

Senegal

Seychelles

Sierra Leone

Somalia

South Africa

South Sudan

Sudan

Tanzania

Togo

Tristan da Cunha

Tunisia

Uganda

Western Sahara

Zambia

Zimbabwe

Bermuda

Bouvet Island

French Southern Territories

Heard Island and McDonald Islands

Indian Ocean Territory, British

Saint Helena

South Georgia and the South Sandwich Islands

Tokelau

United States Minor Outlying Islands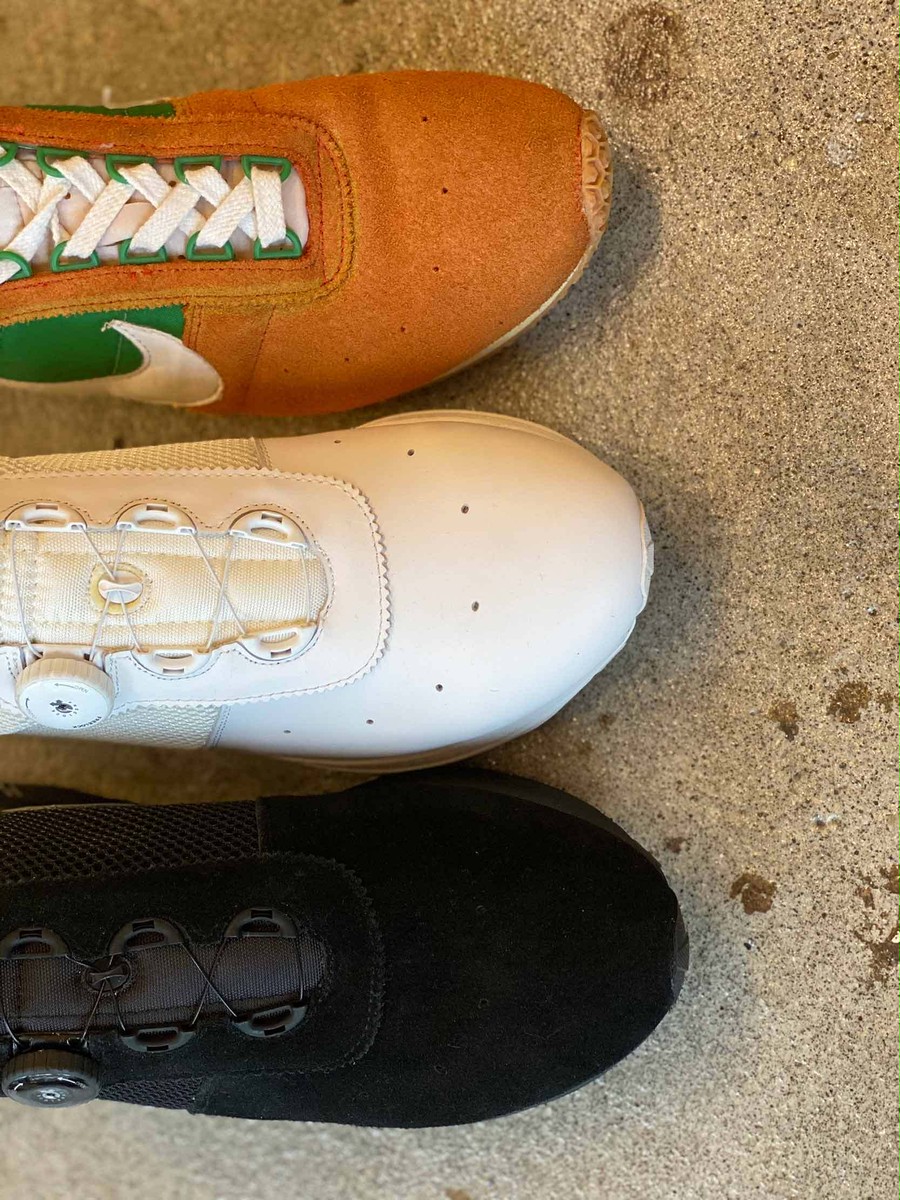 pg BreezeのデザインソースはNIKE STINGです。黒はスエード、白はスムースのカウレザー(牛革)とメッシュのコンビ。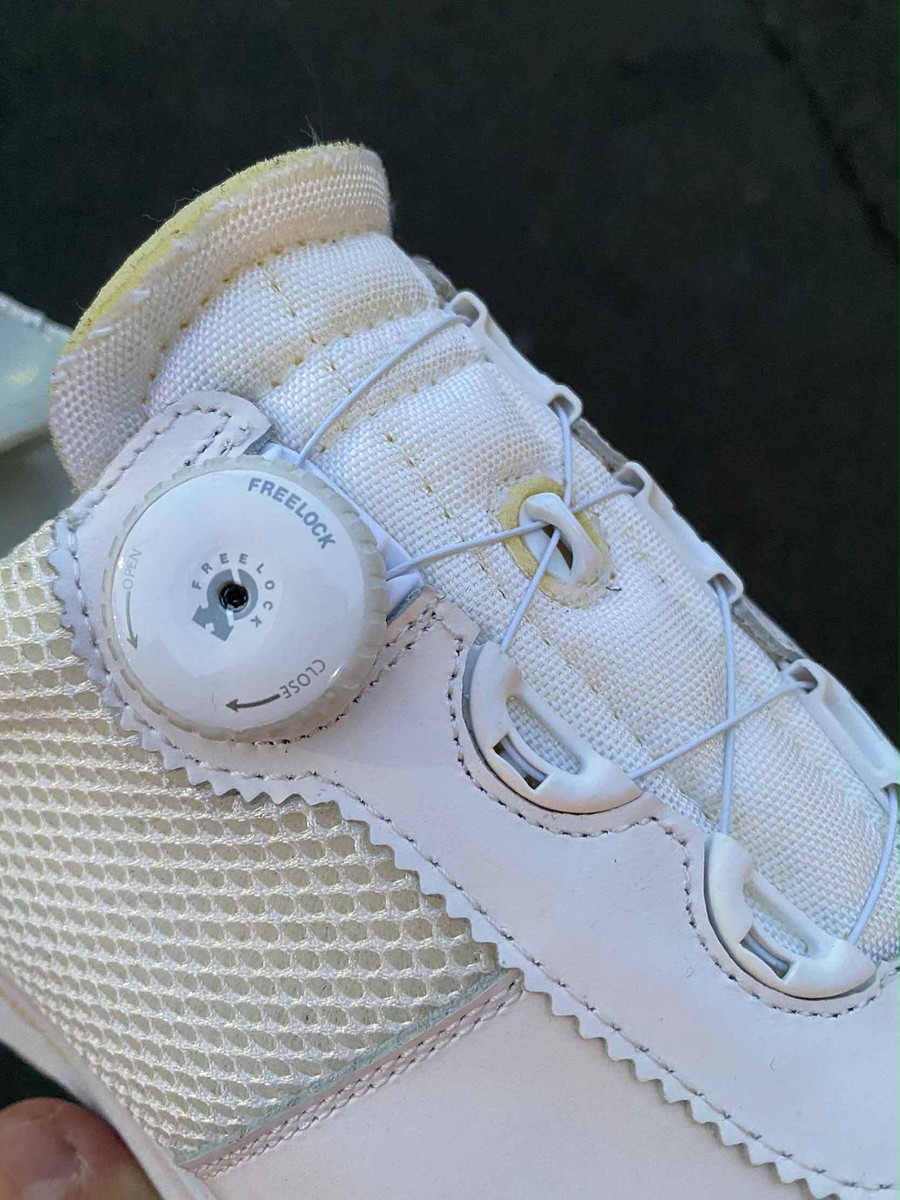 FREELOCK SYSTEMで右に回せばダイヤルがワイヤーを巻き上げ瞬時にホールド。逆に回せばカチッと音がしてロックが外して、これまた瞬時に脱ぐことができます。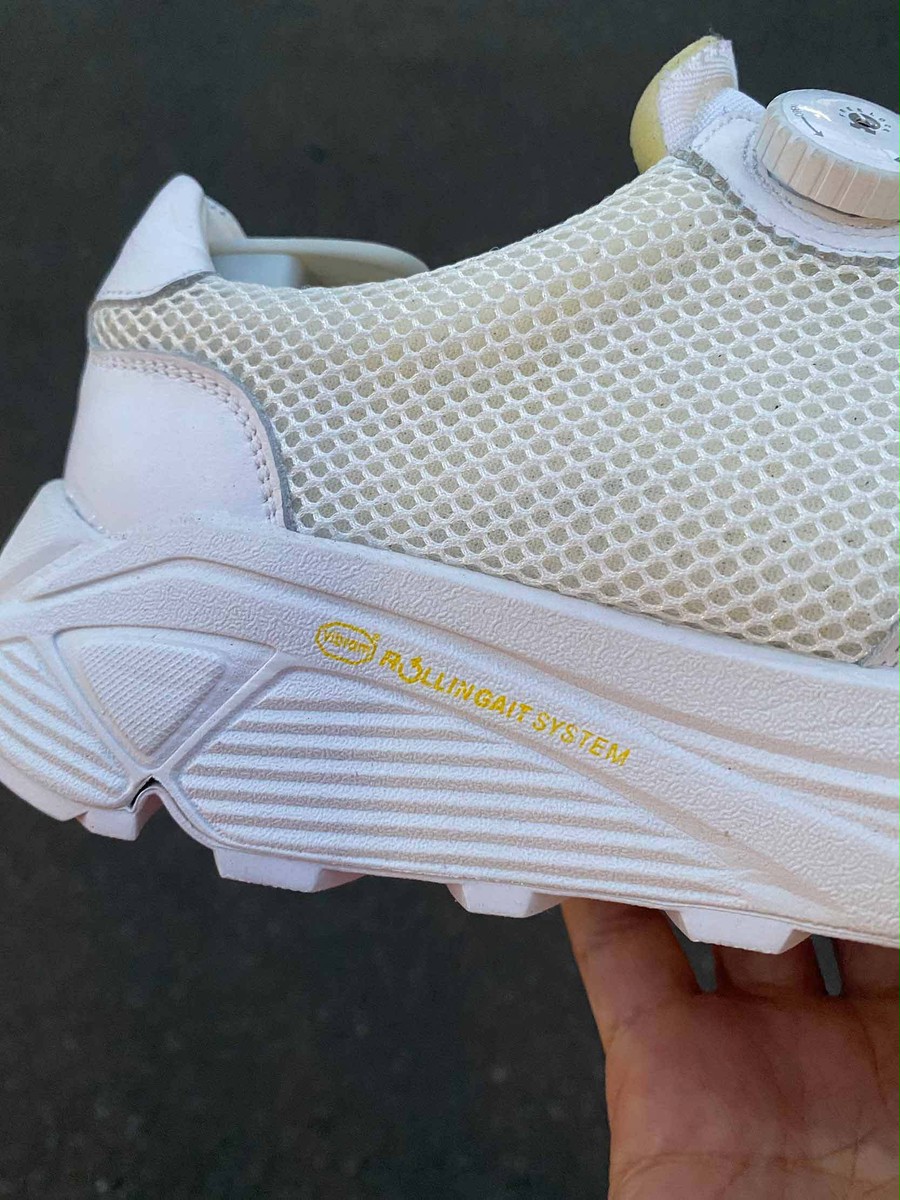 vibram社のROLLINGATE SYSTEMソールを搭載。最大の特徴は高いクッション性と高い推進力があること。歩き出すと前に体重が移動し自然に足が前に出る感じが体感できるソール。
どんどん歩きたくなります。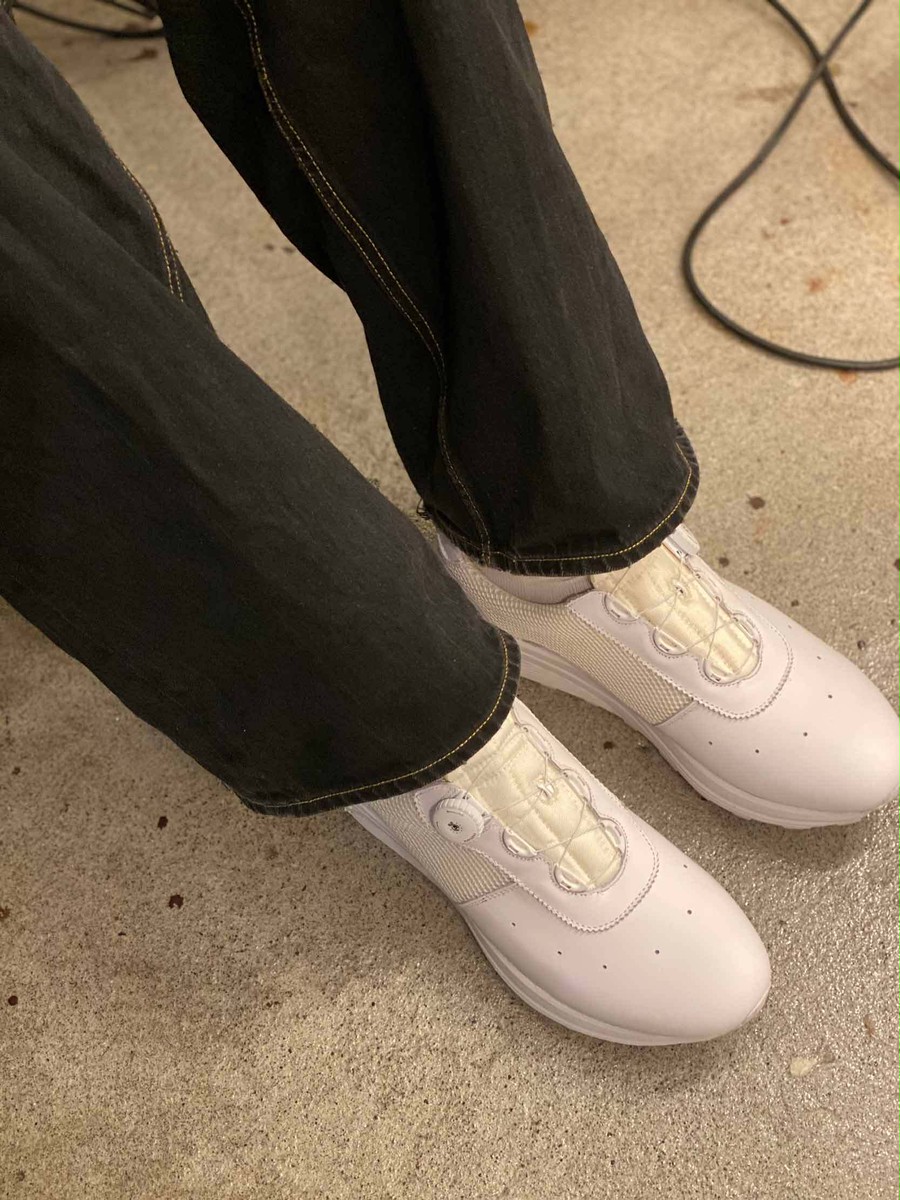 PANTS : FACETASM

STAFF大島はNIKE AIR FORCE1だとUS 10.5 (28.5cm)を着用。このBreezeはサイズ44を。